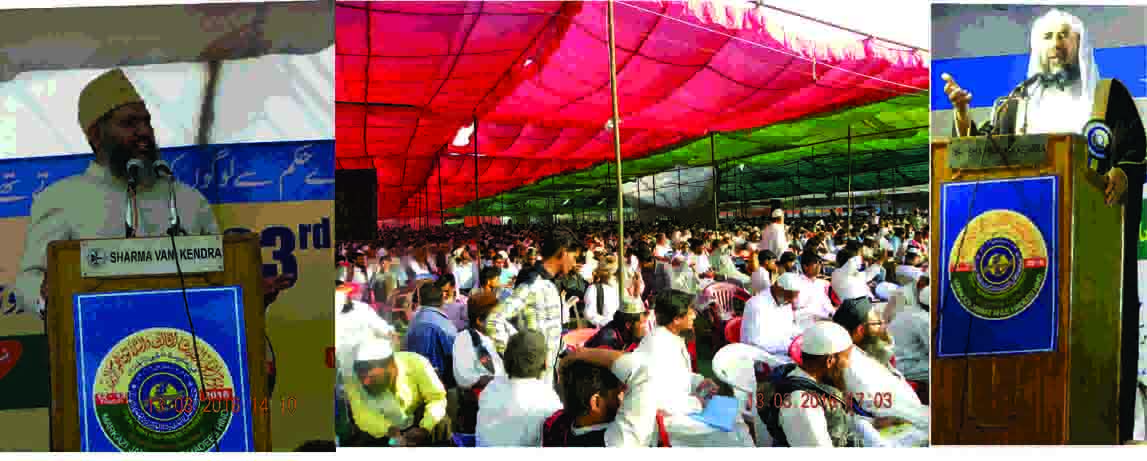 New Delhi: March 13: Referring to fateful incidence of partition of India, the general secretary of Janata Dal (U), K. C. Tiyagi said that the Constitution provides equal rights to all. He said none shall be given differential treatment on the basis of religion. He said present situation is worse than it was in 1947. Criticizing the capitalist system, he said global situation is not good presently. Expressing his views on second day of 33rd conference of Markazi Jamiat Ahle Hadees held here in Ramlila Ground, he said today that it is also our job to bring back those Hindus who have gone away from tolerance and moved to extremism. Criticizing attempts to endanger religious traditions of the country, he said that he will not allow such attitudes to succeed.
Maulana Asghar Ali Imam Mahadi Salafi the general secretary of Markazi Jamiat Ahle Hadees Hind said, different organizations present in the country are like flowers of different colors in the garden, as they are carrying out different services of the nation, the Millat and humanity in their respective fields. He continued that whenever any significant problem or challenge crops up, all these organizations get ready to deal with it. All these organizations are a guard of country's Gangetic-Yamunite culture. He told that today, a danger from terrorist organizations viz. Daish etc. is lurching before the country and humanity, so the elders of the country and the Millat have gathered here on the initiative of Markazi Jamiat to prevent it.
Expressing concern over increasing prices in the country, Mr. Atul Kumar Anjan, general secretary, Communist Party of India said that fetching rights is the responsibility of governments. He said progress is being claimed but which type of progress is it that poors are becoming poorer. He said that if the capital of the country shall not be distributed judiciously, poverty cannot get abolished. Criticizing those attempting to change the history of India, he said all of us have had a role in country's progress. Fight for rights shall continue, he said.
Extending his congratulations, Prof. Akhtarul Wassey, Government of India's commissioner for linguistic minorities, said in the conference that there is no forced compulsion in matters of religion, then, how could there be any compulsion about sect? He said the Book and the Sunnah are axis of our faith. We condemn those following their own whims. He said we should work rising above differences. Congratulating for taking lead in connection with terrorism and Daish, we condemn those who are spreading terror in name of Islam.
Dr. Qasim Rasool Ilyaas, president, Welfare Party of India said this is not only Muslim Ummah's problem but entire country is inflicted by troubles as everyone is being accused for terrorism. For ending present crisis in the country, we will have to play our role. Let us pledge that we will not allow injustice, he said.
Earlier, inviting Imams and preachers for more vigorous preaching and practice, Maulana Shu'aib Memon Junagadhi said that Imams and preachers shall also be respectable in hereafter besides being so in this world. Congratulating the authorities of Markazi Jamiat for organizing a conference on the topic of Imams and preachers, Nazim of provincial Jamiat Ahle Hadees, Bihar, Khursheed Alam Madani congratulated for organizing such a grand conference and said that the theme of the conference suits the occasion and demands of the times. Appealing to the audience, he advised them to benefit from this conference of Markazi Jamiat by participating in it. Delivering his lecture, Maulana Sajjad Husain, nazim, provincial Jamiat, West Bengal, expressed his confidence in long range impact of the conference and appreciated the courage shown by Imams and preachers. Maulana Abdur Rahman Salafi, nazim, provincial Jamiat Ahle Hadees, Haryana, stressed on covey the message of this conference on a large scale and do something practically. He also said to make efforts to render such type of conferences useful and a model. Maulana Abdur Rahim Umri said this conference is the best counsel to Imams and preachers of mosques. Emphasizing the need to review the circumstances the Imams of mosques and preachers, he advised to immediately pay attention to improving their lot. Expressing his dismay over the salaries of Imams of mosques, has said there is imminent need to implement the decision taken in connection with the Imams during the age of caliphate.
Maulana Abdul Wahab Hijazi said the remembrance of Allah is our real strength. Expressing his concern over rise of evils, he said the root cause of evils is our world order. Describing the incidences of rape and oppression and excesses against women, he said we need to realize the objective of our life properly. Concluding that all this is the result of materialist thinking, he said, justice and equity are recognized facts in entire world. President of Muslim Majlis Mushawarat, Dr. Naved Hamid said that conference is the voice of Muslims' hearts. He said that those accusing Muslims of terrorism have come to know that Zionist forces are backing Daish. This is an honour for Indian Muslims that they honour the Constitution in spite of being sentenced in jails for fifteen or twenty years. He said Muslims need not get harassed, instead they need further strengthen their relation with the country. Mentioning tolerance of Muslim rulers, Maulana Ataullah Qasmi, president, Shah Waliullah Institute said governments cannot run amid tyranny. Admiring Indian culture and its tolerance, he said that we cannot make progress by ignoring Indian culture. Mentioning Maulana Azad's views, he said Maulana Azad kept Hindu-Muslim unity intact, and what could be greater faithfulness than this? He said Daish (ISIS) is the gift of USA and false powers.
Mr. Salim Ansari, M. P., said attempts are being made to construct a wall between Hindus and Muslims on the pretext of religion. And series of inflammatory statements is continuing whereas the government is not making any effort to bridle it. The country shall remain intact only after persistence of unity and concord. Criticizing unjust arrests, he said government attitude in this connection is extremely unjust. He said Imams and preachers can stop discord.
Narrating the benefits of dhikr, Maulana Mufti Rashid Qasmi from Deoband said the best dhikr is that which is completed in the light of the Qur'an and the Hadiths. He said it is the responsibility of Imams and preachers to address the followers in prayers and in their discourses in the light of the Qur'an and the Hadiths as it will benefit the Ummah.
Issued by
Markazi Jamiat Ahle Hadees, Hind