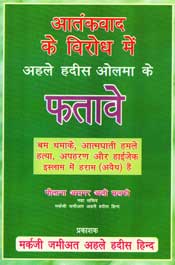 Jamiat Ahle Hadeeth, Hind is predominantly a da'wa and reformation movement which is struggling to wipe out the non-Islamic concepts and tradition that have crept into the Aqeeda of the Muslim community and replace it with the pure Islamic monotheism and culture. It has been playing an active role in correcting the Aqeeda of the believers for more than one and half century. Publication is one of the crucial means for an ideological organization to spread its ideas. Therefore the Jamiat had set up publication department since from the very beginning. It has contributed in Urdu language precious books on Islamic beliefs, history, ibaadat, comparative studies on different madhahib (Islamic schools of thoughts) in Islam and other issues related to Muslims and Islam in general. Beside Urdu, it has been publishing books in English, Arabic and Hindi as well. Due to pressing demand of Islamic books, the last five years saw a stupendous increase in the publication of books on the part of the Jamiat and some of them are research works which are significant for reference purposes. Many important books were also translated and published in Urdu, English and Hindi languages. Here is a bird-eye view of some of the publications that Markazi Jamiat has revived.
1. Muttahida Hindustan ke Ulama-e-Islam ka Awwaleen Mutaffiqa Faisla (The first joint legal verdict of ulama of United Indian Subcontinent). The book is compilation of fatawas of the prominent Islamic scholars of Indian Subcontinent refuting and denouncing Qadyaniyat. Pages: 188 Price: Rs. 60.
2. The Holy Quran with translation of the meaning of the Quran in Hindi by Maulana Daud Raz Dehlvi, with simple and authentic commentary for the convenient of the common readers. The translation has been well-received by the readers and thousands of copies sold. Now the fourth edition is in the press. Pages: 1444 Hadiya: Rs. 300.
3. Commentary of Sahih Bukhari in Urdu language written by Maulana Daud Raz Dehlvi. The need to understand Sahih Bukhari more deeply has been felt by Urdu readers since long. It was colossal work to publish a book comprising of 5389 pages and in eight volumes but by the mercy and help of Allah (SWT) and cooperation of our sympathizers we were able to finalize its publication. The hadiya has been subsidized by Markazi Jamiat. Pages: 5389 Hadiya: Rs. 1800 Volumes: 8.
4. Quran Majeed with translation of its meaning in Urdu by Maulana Mohammad Junagadhi with commentary by Hafiz Salahuddin Yusuf. It is a well-received translation with short commentary and a unique contribution from Markazi Jamiat. Pages: 1440 Hadiya: 150.
5. Maslae Rafa'ayadain m'a Ameen bil Jeher – Pages: 40.
6. Tauheed Kya Hai – Pages: 48.
7. Mohre Nabuwwat – Pages: 40.
8. Dhaeef wa Maudhu'a Ahadees – 182.
9. Yassarnal Quran – Pages: 48.
10. Sirate Mustaqeem aur Ikhtelafe Ummat – Pages: 324.
11. Khilafat wa Malukiyat ki Tareekhi wa Sharaee Haisiyat – Pages 624.
12. Qabar Parasti ek Haqiqat Pasandana Jaiza – Pages 210.
13. Hayate Sahabah ke Darakshan Pehlu – Pages 507.
These are the books that have been republished. There are also a good number of books that have been newly introduced by the Markazi Jamiat. Here is the list of some of them:
1. Namaze Nabavi – Pages 172.
2. Sue Haram – Pages 366.
3. Haq Prakash bajawab Satyarth Prakash – Pages 299.
4. Turke Islam bajawab Tarke Islam – Pages 210.
5. Dua't ke Liye Mansooba Saazi aur Waqt ki Ahmiyat – Pages 126.
6. Qayamat ki Nishaniyan – Pages 468.
7. Khwab hai Rasool – 68.
8. Fatawa Sanaiya – Pages 1606 Volumes: 2
9. Islam ki Betiyaan – Pages 600.
10. Aham Deeni Masael – Pages 64.
11. Al Furqaan – Pages 210.
12. Alhizbul Maqbool min Ahadeesir Rasool – Pages 128.
13. Riyazus Saliheen (in Bengali) – Pages 951.
14. Ruyate Hilal – Pages 348.
15. Tehreek Khatme Nabuwwat, Part-III – Pages 620.
16. Tehreek Khatme Nabuwwat, Part-IV – Pages 568.
17. Naqad ke Deeni Usool – Pages 36.
18. Quran Majeed Mu'arra in English.
Attention has been paid on publishing some of the books which were either written or translated by some devoted sympathizers of the Jamiat. These are Kitabul Janaiz (in Arabic) pages: 160 and Nisabe Taleem barae Primary Darjaat (Urdu) pages: 154.
A souvenir on the occasion of Ahle Hadees Conference held in Pakorh, 2004, was also published which has been appreciated by scholars like Allama Mohammad Ishaq Bhatti (Pakistan) and Dr. Bahauddin Mohammad Suleiman (London). This souvenir has glimpses of the history and achievement of the Jamiat along with short biographical articles on former Ameers and Secretaries of the Jamiat and other related informations.
The educational books have been revived with new composing and beautiful cover designs like Chamane Islam Qaieda, part 1, 2, 3, 4 and 5. Due consideration is being taken to avoid the shortage of the books for the convenient of the readers. Every year Maktaba Tarjuman publishes an appealing yearly Islamic Calendar. On some special occasions pamphlets and folders based on Islamic teachings are also published and distributed free of cost.
A directory of madarsas of Ahle Hadees has also been published comprising of 650 pages. It would serve a good reference book for the students of history.
There are some valuable books in waiting for publication. They are going through different publication process and will be out soon, inshaAllha. A few of them are Fatawae Sanaiyya, Fatwa Sheikhul Hadees Obaidullah Rahmani, Fatawa Aiemma fi Nawazil Madalhama, Maqalate Taleemi Seminar ba moqa' Ulamae Ahle Hadees Convention 2006 and first volume of Tareekhe Ahle Hadees comprising of 670 pages by Dr. Bahauddin Mohammad Sulaiman. Other nine volumes of Tareekhe Ahle Hadees are expected to be published within coming two years.
Firstly, all credits for these achievements and development is to Allah (subhanahu wa ta'la) and after that humble efforts of the office bearers and the sympathizers of the Jamiat is commendable.
Jamiat has been publishing its organ in four languages i.e. monthly journal "The Simple Truth" in English, Al Istiqama in Arabic, Islahe Samaj in Hindi, and fortnightly Jarida Tarjuman in Urdu.